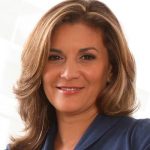 Lisa Maysonet
Senior Global Real Estate Advisor, Associate Broker
Local Expertise.
Lisa Maysonet brings 40 years of experience as a real estate broker, owner, and investor to lead Team Lisa Maysonet at Sotheby's International Realty. To date, she has negotiated properties valued at over one billion dollars and climbing in the New York City metropolitan area. In addition to being an established top producer in the NYC market, her breadth of knowledge on real estate markets has expanded to include clientele from around the world. As a leading expert in global luxury properties, Lisa has presented at conferences in Canada, Hong Kong, and Russia. Having earned the opportunity to work alongside many top developers and world-renowned architects, Lisa has consulted and advised on pre-development projects, strategic marketing, and professional on-sight sales since the mid-1980s. From traveling to places such as Hong Kong, Israel, Russia, and Canada, she has gained developers' insights as to the types of layouts, finishes, and marketing campaigns that are currently being used. Lisa is a proud member of the Real Estate Board of New York, the Associated Builders & Owners Assoc., Professional Women in Construction, Assoc. of Real Estate Women, the Parents League of NY, Covenant House for Homeless Teens, Children's Aid Society, and Spirituality for Kids. She also volunteers at God's Love We Deliver. Her recent media coverage includes The New York Times, New York Post, People, CNN/Money, Forbes.com, Manhattan Living, NY Observer, The Real Deal, NY Living, Fox 5, Discovery Channel, and WB 11. Lisa's natural curiosity for life coupled with her passion for the real estate market and her commitment to providing results for her clients has made her a top producer. Growing up in New York, in a family deep rooted in real estate, has helped give her a profound understanding of the New York real estate market. Lisa Maysonet's team at Sotheby's International Realty reflects the needs of her growing clientele as she is fluent in Spanish, conversant in Italian, and her team members speak Chinese, French, and Portuguese. As a real estate broker, owner, and investor for 40 years, her team members follow suit in experience, talent, and dedication. Lisa's team includes the following associates: Gary Kabol, Senior Global Real Estate Advisor and Associate Broker; Michael Morgenfruh, Licensed Salesperson; Sierra Payne, Licensed Salesperson; and Michael Weissberg, Licensed Salesperson. Their commitment to results comes with an exceptional approach to servicing buyers, sellers, and developers.
Agent Value Proposition
My Competitive Advantage?
My name is Lisa Maysonet. I am a born and raised New Yorker and have 45+ years of real estate experience. Outside of work my passions include volunteering at my local horse rescue, supporting charities such as the Covenant House, God's Love We Deliver, and advocating for Mental Health Awareness.
My Past Experiences?
In my over 45+ years of negotiating luxury real estate for buyers and sellers I have represented and negotiated over 5,000 deals. I am a strong negotiator, persistent, and relentless with a smile when it comes to getting my clients what they want.
What's my value?
As a result of my strong real estate skills and charitable involvements I developed excellent organization skills, focus on listening to help me understand a clients, and execute the real estate goals of my clients.
How will my clients benefit?
By working with me, sellers are able to leverage my resource and knowledge of all things real estate maximizing their value and protecting their largest home investments. Real estate homeowners will achieve their ultimate home ownership dreams with the least amount of hassle.